Name:
Jin Kuromuro
Nickname:
The Wind Demon Of the Mist
Age:
19
Gender:
Male
Rank:
Jounin (Former ANBU)
Village:
The Village Hidden In The Mist
Affiliations:
Seven Ninja Swords Men Of The Mist
Elements:
Wind, Water, Fire
Kekke Genkai:
None
Special Traits:
Jin is a Sensory Type Shinobi and can sense the chakra's of others, He is Highly skilled in Taijutsu and Kenjutsu as well as Swordsman ship
Personality:
Jin has a Calm cool demeanor and has a gentle personality towards others hating to kill another being but wouldn't stop himself from doing so if needed, he has a strong sense of respect and duty, he may come off as blunt nearly at all times but he cares deeply for his village. i
Appearance:
Jin has white hair and blue eyes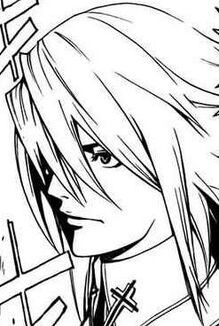 Bio:
Early Age Arc:
Jin grew up in the Mist village an average Kid of the village. ((Psssh im too lazy to be creative))
Genin Arc:
At the Age of 12 Jin became a Genin graduating from the ninja academy at the top of his class, Excelling in his skills as a Shinobi he was quickly established as a prodigy of the mist village being placed to a ninja team which was lead by one of the Seven Ninja Swords men of the mist. His squad leader was a major influence on Jin to the point where Jin wanted to be one of the Ninja Swords men himself becoming an Apprentice of him.
Chuunin Arc:
After The Chuunin exams when Jin was 13 years old he was the only one on his squad to pass successfully putting him second in command in the team. After becoming a chuunin Jin became more and more ambitious to his goal of becoming one of the seven ninja swords men and after 2 years he got to that goal, being trained by his master one of the Seven it was expected that he would take his place. After a dangerous mission his Master suffered fatal injuries, using the last of his strength he gave his sword the Slepiner(Dragon Sword) to Jin making him one of the seven Ninja swords men at a young age of 15.
Jounin/ANBU:
Jin through his skill and knowledge as a Shinobi was soon promoted to the rank of Jounin but in actually truth he was secretly an ANBU squad member performing dangerous high profile missions and assassinations proving worthy of his status as one of the Seven ninja swords men. During one of the Great Ninja wars he was a valuable asset of the mist village, rumors spread on how he single handedly annihilated one of the enemy villages although this was never proven and was only just a rumor, It was after the Ninja war Jin left the ANBU corp
Fear my crappy bio!! XD