Remade his App no major changes except for his Kekke Genkai
Name:
Agito Rukyo
Nickname:
The Bloody Shark Of The Leaf / Agi /
Age:
15
Gender:
Male
Rank:
Jounin
Village:
The Village Hidden In The Leaves
Affiliations:
None atm
Elements:
Wind , Water
Kekke Genkai:
Raikirigon - When activated the Doujutsu instantly sees everything thing move at a slower rate and can see chakra flow, also the brain waves of the user became extremely active increasing reaction time and speed of thought. The Raikirigon can lock unto a person's chakra signature by looking at them tracking their position and movement by means of meters, miles,yards, longitude, latitude and altitude, if the eye closes for a few seconds the Lock is disengaged, Raikirigon also sees heat signatures tho cannot lock onto them and can see things from far distances (Agito is the only Known Person with this Technique due to the fact that His father created and implanted it into him as an Experiment the other who has this is Agito's twin brother Lind)
Raikirigon:
Special Traits
: Can smell the Blood of someone in the air from 6 miles away he also can hold his breath for 25 mins mostly because of his shark like training
Special Weapon:
4 hooks that are connected to 4 straps 2 on each of Agito's leg which he pours chakra into and controls them and uses them as a Means of slicing of strangling his opponents. The straps are made from high intensity chakra threads and special attributes making them extremely hard to break.
Appearance:
Agito Wears a White Eye Patch Over his left Eye To Hide The Scars of an Experiment Done on him to Create a Man-Made Kekke Genkai Doujutsu the Raikirigon usually wears a jacket and wrapped around is legs are 4 straps made of special Chakra material attached to them are Hooks which he uses as weapons
PIC: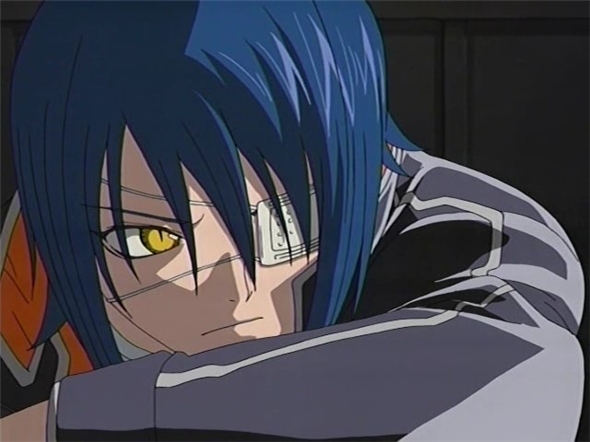 Personality:
Agito is a very Cold person and isn't very social due to his horrible past He is also a person with a very Large Murderous Intent and Loves to full around with his opponents Carving his "Road" into their bodies so that they will remember Who they faced
Bio:
Agito was born into the Rukyo family and at an Early age his father along with a few of his family members Experimented on him when he was only a baby Trying to create the First ever Man-Made kekke gen Kai Dojutsu which they succeeded In But were Unable to Do the procedure on one another when Leaf village Anbu discovered their Atrocities of testing of on other villagers their research was burned and most of them got away and are scattered across the land..With this Agito Grew up alone with an X shape Scar around his Left eye which he wears a Patch to cover up while growing up he was picked on as a kid but this only made stronger to the point where he beat up a gang of kids that were older than him with ease....
Shinobi Arch
at the age of 9 Agito became a Genin and at 11 Chunin while only 3 years later at the age of 14 he became a Jounin with his great skill and tactics Agito became one of the most feared Ninja in the Leaf village...not only because of his skill but because of his Vicious Nature when Fighting Agito Hates his Family for what they have done to him Especially his father who he fought on a solo mission when he was 13 years old where Agito viciously Fought him and lost as his father Claimed Agito to be nothing more than a Mistake in this world and should be exterminated This experience only Fueled his hate and anger which pushed his training to great limits as he vowed to one day Murder his father. He found a Fighting Style to fit him self and called it "His Road" the Road of the Fang where he uses 4 hooks to attack his opponents.....Agito is considered a Loner in the village and does not like Teaming with others He does not show much emotions to other other than pity or anger and does not seem to care about anything in his life...
The only person who actually looked after Agito was Shin Nior a jounin shinobi who was also a former student of Agito's father Akira.