Name:
Crow (Real Name is Unknown)
Nickname:
The Black Reaper
Age:
Unknown 17-25
Gender:
Male
Rank:
A-Rank Rouge ( International Criminal )
Former Rank:
Former ANBU Squad Leader
Former Village:
The Village Hidden in the Mist
Affiliations:
Is Secretly the Minion of Akira Rukyo of Akatsuki
Elements:
Fire, Water, Wind
Kekke Genkai:
Unknown
Personality:
Crow is more of a silent Figure who is usually in the shadows...He has no true emotions and he feels neither Joy or sadness...as he considers them Human qualities as he states He has Lost all of his Humanity and He does not see the Line between Good or bad just Logic.
Appearance: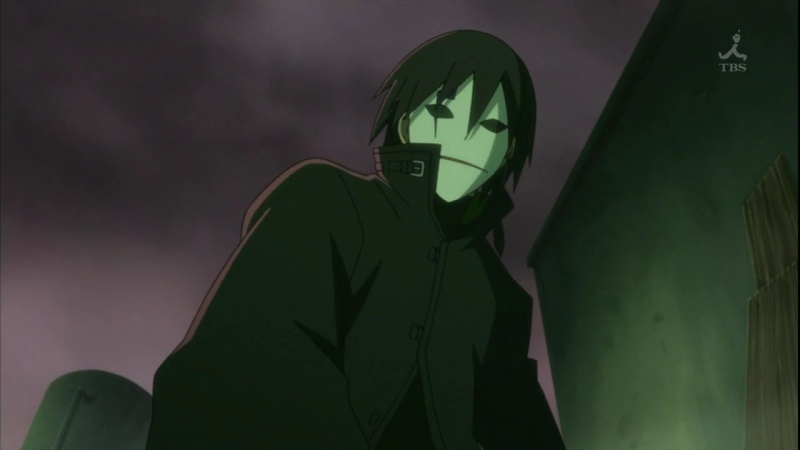 Bio:
Mist Village Arc
Not much is Known about Crow not even his real name But it is certain that he was from the Village hidden in the Mist and was a former ANBU black ops member there for some unknown reason he attempted to assassinate the Mizkage but was stopped by his former team members though he escaped the village he was eventually Cornered into a small Cottage by Mist ANBU where they lit it ablaze with him still inside Using a cage like Jutsu so he could not escape so he could burn alive. After the Anbu left Crow managed to survive tho his body badly burnt and his mask melted into his face deforming it, he managed to burn all documents of his existence before he even left the village and thus began a new life in the Ninja World. Going Only by the Name Crow as he states that He has lost all of his Humanity and is nothing But a Being that walks the world In search of meaning.
Life As Crow Arc:
After The Incident at the Mist village Crow began a new life Dawning a new mask which he used a special metal to create making it near indestructible as well as using a specialized substance to glue it to his face allowing only him to remove it. After wandering the wilderness the world for a year he finally decided to go into a village but he was changed. Being secluded to himself for so long training mentally and physically losing touch with his human self and becoming nothing more than an assassin in a mask, He soon became a well known mercenary for hire killing and assassinating anything for money, tho the money was useless for someone like him, soon he began to kill his Hirers after completing his missions which led to no one wanting to hire him, becoming more and more feared crow soon made unsanctioned Assassinations of feudal lords and high profile people which soon led to him being placed as an International criminal tho all the bingo books would only have his name and his appearance nothing on his jutsus and skills.
Crow continued his rouge killings of high profile people eventually leading the rich of the land terrified of him giving him the name "The Black Reaper" the shadow that goes bump in the night before it kills you. it was only a matter of time before ninja villages and bounty hunters would be after crow but to no avail due to his secretive and cautious nature. the only time he was actually seen was when he came to kill his unsuspected targets, it is unknown why he went on a killing spree of high profile people probably training his skills as an Assassin who knows. Eventually Crow met someone unsuspected Akira Rukyo. Crow was about to assassinate just another target when Akira stopped him, apparently Akira was hired as a Body guard at the time and was not a member of Akatsuki as yet, the two ended up battling with Crow's defeat yet Akira spared his life making him his subordinate, this led to crow following Akira's orders even keeping some of his darkest secrets, Crow's existence was not shared with Akatsuki and was kept as a silent subordinate of Akira.
Crow served Akira very well completing high class missions for him tracking down things as well as gathering info on certain people, all was going well until his first failed mission which was the infiltration of the Leaf village and Assassination of the Hokage, which was Interrupted by a leaf ninja and secret Akatsuki member Annabel Lee whom he defeated in a slight battle but spared her life something he did not do..after leaving the leaf he had failed another Mission after returning to the Mist village to learn info on the tailed beasts there but that was also faulty due to Annabel's unsuspected interference where he had left her bleeding badly after a slight battle. He left her bleeding to death in the forest area leaving her alive again, the reason was simply because he could not kill an Akatsuki member one of Akira's rules for him not because he felt human again..